Author's Library: Lilly Higgins on Creating a Project and Recipe Handbook to Guide You Through the Seasons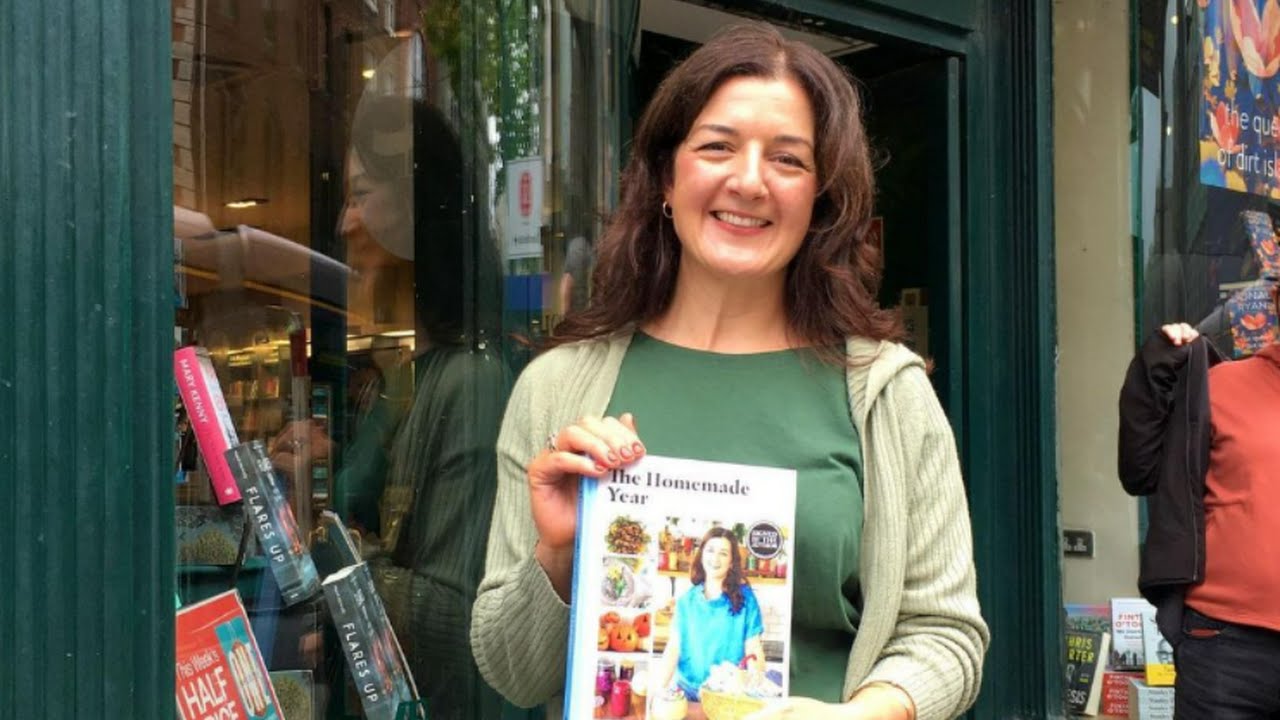 Earlier this week, we shared a clip from Lilly Higgins' celebration of crafts, DIY and sustainability, The year of homemadeand today, we catch up with the author to learn all about his experience creating an adult version of his favorite childhood book.
Have you always wanted to be a writer/author?
I wanted to be an artist when I was little, then a fashion designer, an architect and a flight attendant. It was always chop and change! I did a year of animation in college, then another year of art before graduating in design. Then I went to Ballymaloe Cooking School and eventually became a food writer! My favorite subjects in school were Art, English and Home Economics, my job now is a mix of all three. It wasn't until I won Best Food Writer at the Irish Food Writing Awards last year that I realized this was really my job!
What prompted you to start writing?
I started a food blog in 2010 because I loved reading other interior, craft, and food blogs. Then I started a column in Easy food magazinewrote a weekly recipe column for The Sunday Business Newspaper for 3 years, and I'm now a weekly columnist for Irish weather for 8 years.
Where did the idea for this book come from?
This is a book that I have been really preparing for twenty years. So many experiences have come together to form the idea of ​​this. As a child, I loved Child Craft art book and it's like an adult version. A creative handbook of projects and recipes to guide you through the seasons.
What did you learn from writing this book?
I learned that there is nothing wrong with being creative! It fits into the everyday world and it can be practical. I learned that the creative process is just as rewarding as the finished product. It really helped me connect with the natural world around me and adapt to these seasons.
Three words to describe your writing process:
To research. Discipline. Pleasant.
Do you have any weird habits when you write?
I have a funny habit of procrastinating! I will do anything except what I have to do. I'll spend the whole day distracting myself then around midnight I really start to let the words flow I get into that zone where writing comes so easily and I don't want to close my laptop until the dawn arrives and my children ask for breakfast. This is what works for me!
The first book you remember reading is…
gingerbread man. I was so triumphant when I finished it on my own!
Your favorite Irish author is…
Maeva Higgins. I'm a bit biased because she's my sister, but she now has four books – all essay collections – and they're just fantastic. I could read his work all day. She has such a gift for taking complicated subjects and explaining them with beauty and sensitivity.
The book you give to everyone is…
The Ballymaloe Cooking Class, by Darina Allen. It's a big money book with all the recipes you'll ever need.
Three books everyone should read:
Tell everyone on this train that I love themby Maeve Higgins.
In Bibi's kitchen: recipes and stories from grandmothers of the eight African countries that touch the Indian Oceanby Hawa Hassan and Julia Turshen.
Palestine on a plateby Joudie Kalla.
Do you listen to music when you write?
Not really. When I research and read, I do, but when I write, silence is preferable.
The best money you ever spent as a writer was on…
I wrote my first book on a 9 inch Dell laptop. It was absolutely tiny and I edited all the photos on it too. Switching to a Macbook for my next books was a game changer!
The three books you would take with you to a desert island are…
Hear the earth speakby Manchan Magan.
falastinby Sami Tammi.
Mezcla, recipes to get excitedby Ixta Belfrage.
A quote you love is…
"To live is the rarest thing in this world. Most people exist, that's all" – Oscar Wilde.
The book you always come back to is…
Atomic Habits by James Clear.
As for the food, I really like The bakery by a New Zealand Little Bird cafe. These are all raw plant based recipes and I know every page by heart at this point.
Seeing your book in stores is…
The most incredible feeling in the world! It's just surreal to see multiple copies of something you've created all stacked up. It's amazing to see it come from an idea and then materialize into an actual book. Just magic.
A book you wish you had written is…
Pride and Prejudicebecause I like Jane Austen's writing style, her sense of humor and her way of looking at everything.
How do you use social networks as an author?
I see social media as an extension of my written work. It's a way to bring work to life and show it in another dimension. For my recipe writing, I like to bring dishes to life by creating reels and images for Instagram and TikTok. The same with craft and home projects; I love photography, video editing and music. It's a way to draw the reader in and introduce them to more recipes and crafts.
Should books be judged by their covers? How did you choose yours?
In a way, you have to judge the book by the cover. A picture is worth a thousand words and it is up to the creators of the book to choose a cover to communicate the subject of the book. I was so lucky that my friend Gillian Carney took the photos of me and the lovely opening photos of the book chapters. We had a great day at my house and it was such a relaxed and positive experience. We knew exactly what we were looking for in a coverage plan, so let's aim for that.
Do you find it difficult not to procrastinate when you write?
Absolutely. I have embraced procrastination now as part of the process. I integrate it within the framework of the journey.
The best advice you've ever received is…
Use your own voice to write and don't try to imitate someone else's work. Focus on what you're trying to communicate, not what you're encountering. This is what works best and is the most authentic and long lasting way.
The Year of Homemade: Things to Do, Do and Eat at Home to Accommodate Every Season by Lilly Higgins is on sale now.