In Mexico, FILO combines fusion cuisine and nostalgic design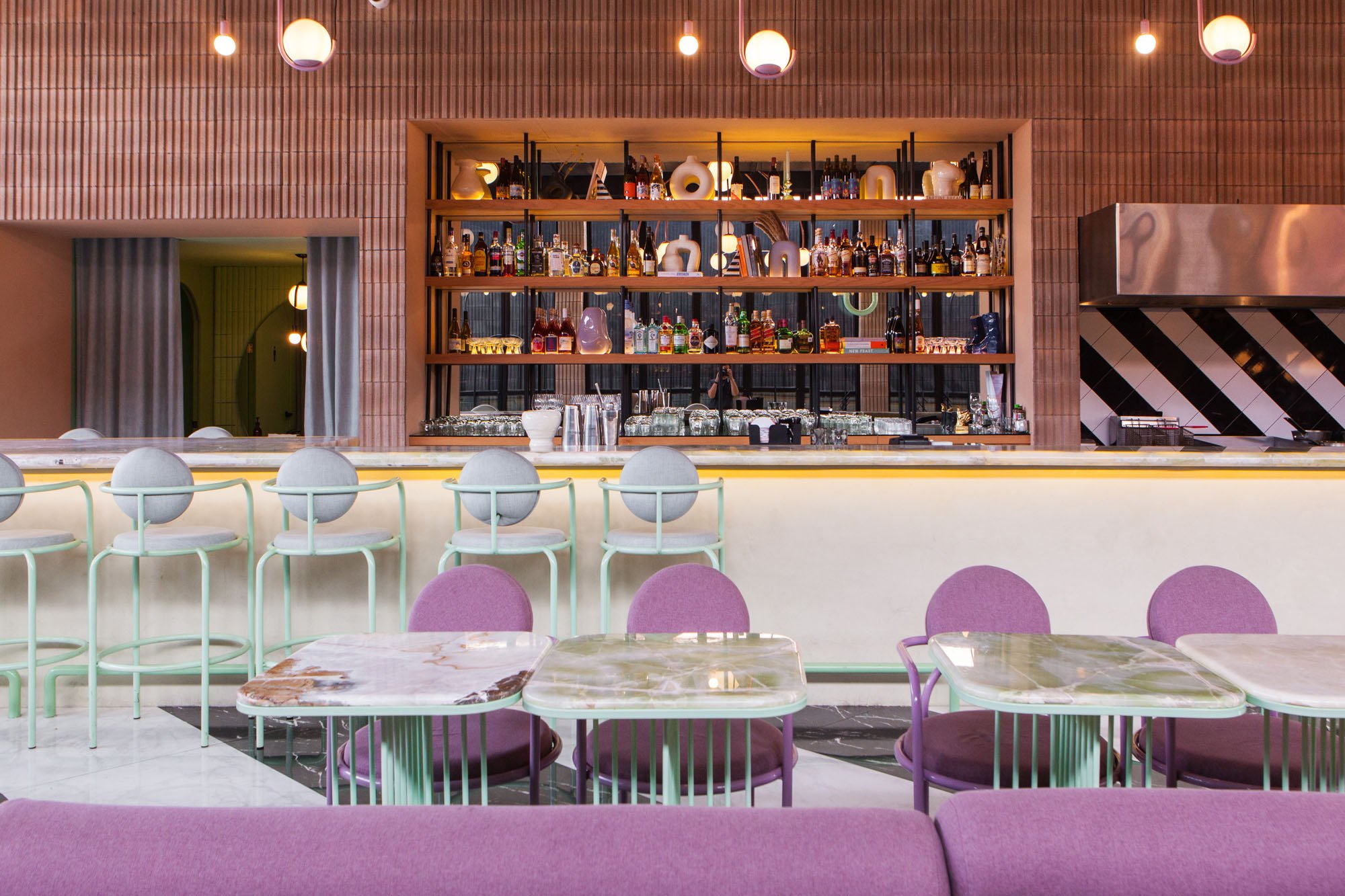 Incorporating Memphis-style color palettes and furnishings alongside architectural nods to the Middle East, the restaurant's 2,260-square-foot dining room offers a compelling mix of hard and soft features. Bold black-and-white tiled floors and screens introduce geometric patterns inspired by Middle Eastern architecture, while plush, retro-style cabins are covered in dreamy pastel shades of lavender and bubblegum pink. A huge onyx bar serves as a unifying focal point and includes a cafe and take-out space that sells craft beer, preserves, and Arabic sweets.
Sweetness runs through the entire restaurant. The dining room evokes a confectionery on the theme of the 1990s through its globe lamps, its cylindrical cushions, its benches, its chairs which are inspired by the rounded shapes of Lebanese pastries made from filo. "The space evokes the textures and colors of the fundamental ingredients of Lebanese recipes," says Galvanduque, noting that the material palette draws inspiration from ingredients such as filo pastry, olive oil, pistachios, lemon and lime. rose water, figs, sumac and peppers found in common Lebanese dishes. spice blends. FILO's open kitchen allows you to observe the chefs in action, while the back of the dining room opens onto a terrace with black and white striped lounge furniture.
More Metropolis
MYT+GLVDK also worked on the restaurant's brand identity, developing merchandising and typography just as playful as the interiors. The resulting fusion of aesthetic and culinary tastes is thoughtful, multi-dimensional and destined to stand out on social media.
Source link