Inside Harvard Square's Enza Bar design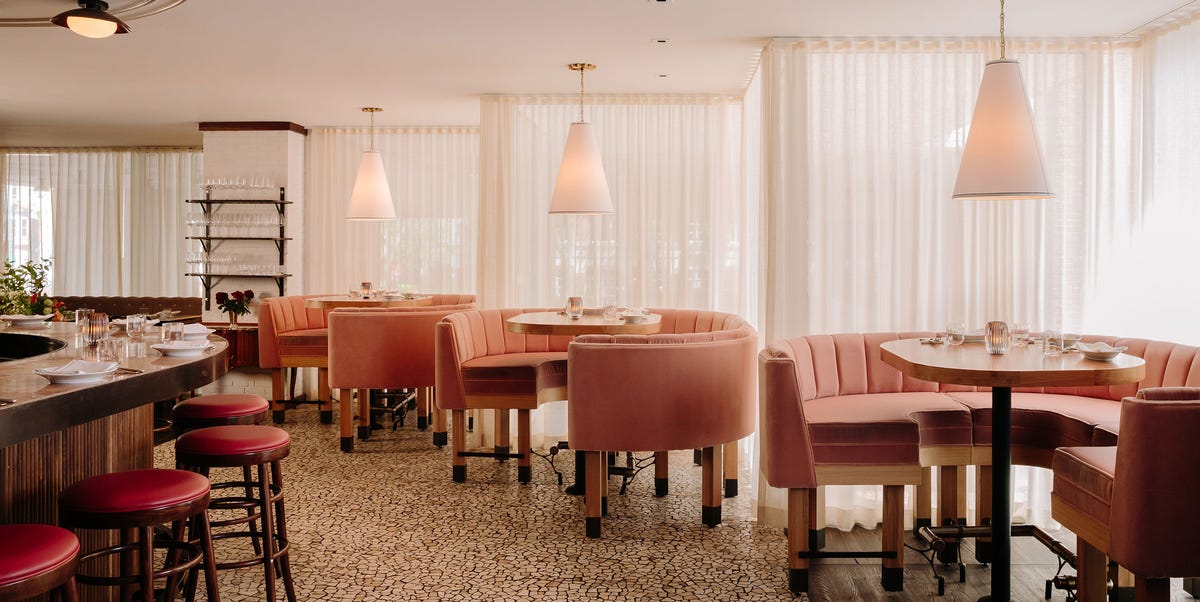 [ad_1]
If there is a picture diners at Enza Bar tend to flaunt on social media, this is photographic evidence of Harvard Square Trattoria's 100 Layer Lasagna, a dish whose densely packed noodle sheets (go ahead, count 'em) and bubbles of melted mozzarella would make a Whole30 member cry.
Artfully layered pasta isn't the only draw at Bar Enza; the soft, Italian-inspired interiors of the restaurant, run by the Brooklyn-based firm Home studios, are also proof that simple ingredients can come together to create something beautifully simple. The atmosphere? "It feels a bit like a big living room," says the company's founder and creative director Olivier Haslegrave.
Bar Enza's location on the ground floor of the Charles Hotel had indeed served as an upscale lounge for the community of Cambridge, Massachusetts, for approximately two decades as the home of Rialto, the project of famous Bostonian chef Jody Adams. When local restaurateur Patrick Lyons announced plans with James Beard Award-winning chef Mark Ladner to open a new Italian-inspired restaurant in the Rialto footprint (the restaurant firm in 2016), they wanted to create a place that would also be loved by the neighborhood.
Given Rialto's legacy, Home studios, who had previously worked with Lyons on Rochambeau in Back Bay, had a large record, not to mention a speedy year-and-a-half project schedule. So the design team decided to reuse as much of the interior as possible, including striking terrazzo flooring and molded ceilings, while providing a fresh twist on a classic Italian trattoria. "The influences we were looking at were more mid-century and more residential," says Haslegrave, citing Osvaldo Borsani's Villa Borsani and by Piero Portaluppi Villa Necchi as a touchstone. "We weren't as focused on the dramatic moments. It was more about the tactile experience.
Cracked beige terrazzo flooring ("We were thrilled to inherit it," Haslegrave notes) now hosts clusters of custom curved banquettes, clad in shades of blush, gray, rust, and olive velvet. In fact, subtle ruffles and undulating silhouettes abound everywhere you look, whether it's the curve of the bar (an existing feature the designers covered in warm wood), the turned legs of a banquette set, or the paneling in medallion shape on a set of wine cellars. Even the translucent curtains on the floor around the perimeter of the dining room fall in wispy waves.
No matter what time you visit Bar Enza, you are sure to be bathed in flattering light, be it diffused daylight streaming through the curtains of the hotel's accordion glass facade. , or, in the evening, the romantic, old-school glow of table lamps. "There's a dinner party vibe," Haslegrave says, a dinner party we'd be more than happy to invite ourselves to.
Anna Fixsen, Associate Digital Editor at ELLE DECOR, focuses on how to share the best of the design world through in-depth reporting and online storytelling. Prior to joining the team, she held positions at Architectural Digest, Metropolis and Architectural Record magazines. elledecor.com
[ad_2]
Source link