MBH Architects completes design implementation at Waterfront Restaurant overlooking San Francisco Bay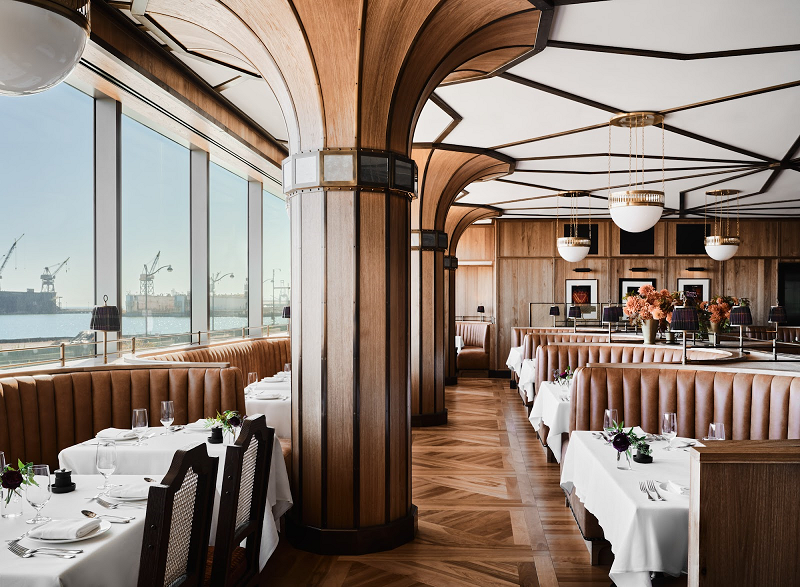 [ad_1]
Exciting news from an award-winning architecture, design and strategy firm MBH Architects. The company recently completed the upscale steakhouse in San Francisco's Mission Bay neighborhood – Miller & Lux. Named after two butchers, Henry Miller and Charles Lux, MBH Architects was tapped to serve as Executive Architect with the task of implementing the overall restaurant design concept of Ken Fulk and celebrity chef and operator Tyler Florence.
Spread over two floors, the 7,000-square-foot waterfront restaurant offers diners the ceremonial experience of visiting a steakhouse: selecting the cut from a platter brought by servers, watching food carts move around the dining room floor and select a dessert from a cart to complete the meal. On the first floor, you can enjoy drinks seated at the counter and full bar. Above, the main dining room and kitchen with old-fashioned broilers are located on the second level. Both floors offer sweeping views of the San Francisco Bay, connected by an elaborate central wrought-iron staircase that ensures a seamless flow into the restaurant.
The team framed the restaurant's interior with brass millwork and dark marble finishes with a caramel and gold color scheme to create a feeling of elegance. Inside, guests will find plush circular booths, custom-cut dining tables, and lighting that gives off a golden glow to set the tone of the space. The sophisticated 147-seat upscale dining destination also offers a private dining room for intimate occasions, table service with food carts, and an outdoor patio for alfresco dining.
[ad_2]
Source link