Sonoma County chef shares dad-approved recipes for Father's Day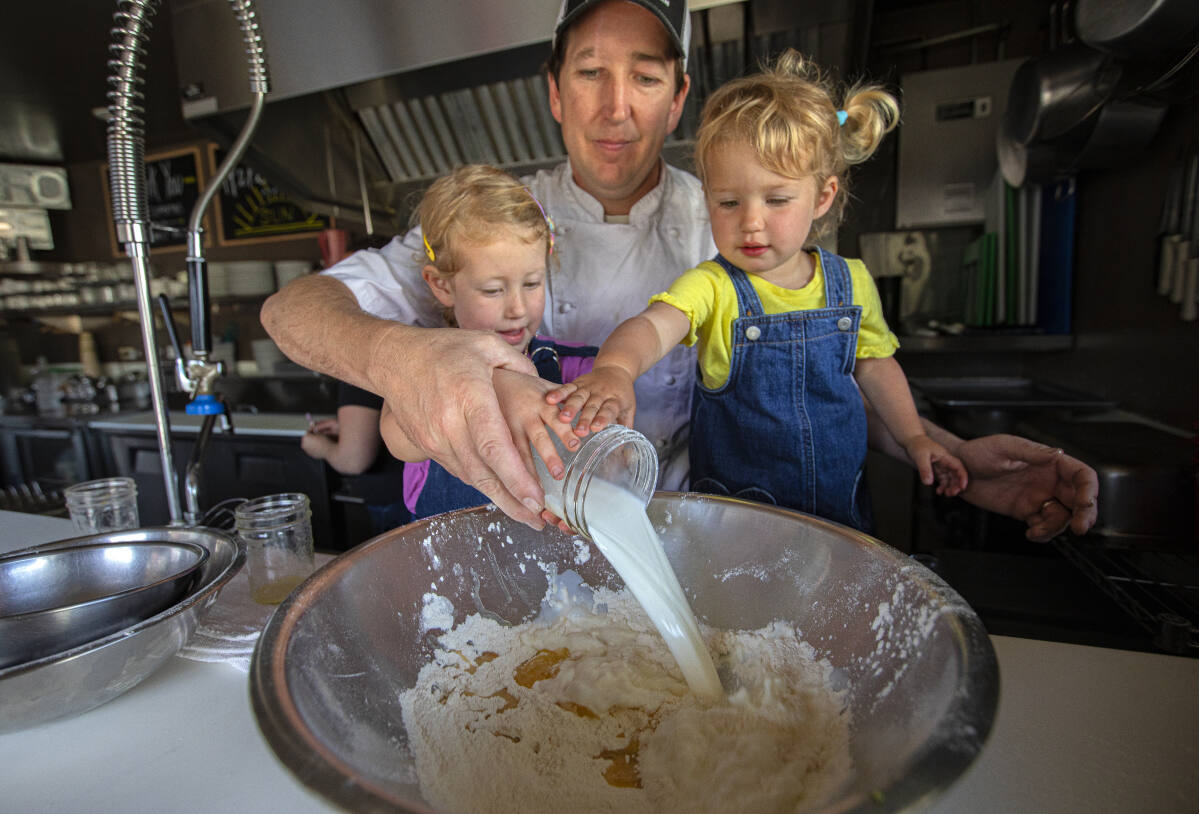 This recipe can easily be doubled. Serve with homemade vanilla cider maple syrup (recipe below) and seasonal fruit of your choice.
Classic Pancakes
Makes 3-4 servings
1 ½ cups all-purpose flour, preferably from Guisto
3 ½ teaspoons baking soda
¼ teaspoon sea salt
1 tablespoon of organic sugar
1 ¼ cup milk, preferably organic clover or Strauss
3 tablespoons melted butter
Vanilla bean (or real vanilla extract), to taste
1 egg, preferably pastured and organic
Combine the dry ingredients in a large bowl. Separately, mix the wet ingredients together. Then mix the wet ingredients into the dry ones, but don't overmix. A few clumps are OK.
Butter a large cast iron griddle or skillet, wipe it dry, then brown the pancakes. When bubbles start to form, the pancakes are ready to flip. Bake until fully cooked.
Garnish with butter, vanilla cider, maple syrup, seasonal fruits and fresh whipped cream.
Ryan likes to use an organic, unfiltered apple cider, such as North Coast Organic Apple Juice, to make this homemade syrup.
Vanilla Cider Maple Syrup
Makes about 2 cups
2 cups of sugar
1 cup of water
1 cup apple juice
½ tablespoon real vanilla extract
1 cup maple syrup
Mix all the ingredients together in a large pot. Bring to a boil, reduce the heat and simmer for 40 minutes.
Serve hot over pancakes. Leftover syrup can be stored in an airtight container in the refrigerator for up to a month.
This sauce can be made up to 2 days ahead, cooled and refrigerated, then reheated to serve. Ryan uses bulk breakfast sausages from Sonoma County Meat Co. in Santa Rosa.
Peasant sauce
Makes about 3 pints
1 tablespoon of butter
½ yellow onion, diced
4 large garlic cloves, thinly sliced
¼ bunch thyme, chopped
¼ bunch sage, chopped
1 pound loose breakfast sausage (or chopped links removed from casing)
1 liter of bone broth
½ cup roux (¼ cup melted butter and ¼ cup flour)
1 liter of whole milk
¼ cup heavy cream
1 teaspoon black pepper
1 ½ teaspoons sea salt
Heat butter in a medium saucepan and sauté onion, garlic, thyme, sage and sausage until onions are golden brown and sausage is cooked through.
Add broth and bring to a boil, then simmer over medium heat.
In another skillet (this is important), brown the roux over medium heat. Then add it to the sausage mixture, stirring until it is well dissolved and the mixture thickens.
Reduce the heat to medium and add the milk. Bring the mixture to low heat, stirring occasionally.
Remove from the heat and add the heavy cream, minced sage, salt and pepper. Stir and taste.
This recipe requires a food processor. Be sure to freeze the cubed butter the night before. If you don't have a food processor, freeze the whole butter, then grate it to create a breadcrumb texture and mix it in by hand. It is important to keep the butter as cold as possible while working.
Butter cookies
Makes 8 cookies
8 ounces butter, cut into ½ inch cubes
1 pound all-purpose flour (about 4 cups), preferably organic from Giusto's
2 tablespoons baking powder
1 tablespoon organic raw sugar
2 teaspoons sea salt
8 ounces buttermilk, preferably Clover
2 ounces butter, melted and set aside
The day before, cut the 8 ounces of butter into cubes and keep them in the freezer.
Preheat the oven to 400 degrees. In a large mixing bowl, sift together the dry ingredients.
Add the frozen cubed butter and stir to evenly distribute. Put the butter and flour mixture in a food processor and pulse about 8 times. The mixture should be "crumbled" and look a bit like cottage cheese.
Pour the crumbled mixture back into the bowl and make a well in the center. Pour in buttermilk and fold until well blended, but do not over mix.
Flour a clean work surface and pour the dough onto the table. You can use a little flour if the mixture is too wet, but don't overwork the dough.
Form a rectangle about 1 inch high and cut it into 8 equal rectangles, like small bricks.
Place on a baking sheet lined with parchment paper and brush with melted butter.
Bake for about 15 minutes or until golden brown.
Managing editor Diane Peterson can be reached at 707-521-5287 or diane.peterson@pressdemocrat.com. On Twitter @dianepete56