What's Vegan at Trader Joe's: November's 17 Hot Products
What's new at Trader Joe's this month? The tiki-themed grocer is phasing out its short-lived Halloween products (goodbye, Halloween Joe Joe's) and ushering in foods perfect for a Thanksgiving feast. Canned pumpkins and squash are here to stay, along with seasonal dips and winter holiday classics that spark seasonal cheer a little earlier.
Any regular TJ shopper knows these items won't last long. Like vacations, they're often gone before you know it. Here's a sneak peek at some of Trader Joe's exciting and mouth-watering new vegan products available in November.
Vegan at Trader Joe's
Addictive Island Soyaki Sauce, Vegan Mac and Cheese, Hold the Dairy! Chocolate Mini Cones, Dill Pickle Mini Falafel, really cheap bananas… Trader Joe's is a gold mine for runaway vegan products that attract a zealous following. This bi-coastal grocer makes shopping exciting with its new arrivals and continued production of intentionally plant-based dishes. Customers look forward to delicious finds with every visit, and there are plenty of social media accounts dedicated just to the products that line Trader Joe's shelves.
No longer a specialty store, one can reliably do all shopping in one trip to this vegan retailer. The brand has become a vegan paradise with exciting vegan product releases and seems to have its customers' plant-based preferences in mind when developing new concepts. It also invited top vegan brands to its shelves for a short stint, such as At Miyoko's and impossible foods.
Now positioned as an innovator in all things vegan, we turn to Trader Joe's for the latest plant-based snacks, treats, and ultimately, crave-worthy convenience.
17 hot vegan products at Trader Joe's this month
Trader Joe's
1 Red Pepper, Cranberry and Walnut Dip
Peppery romesco meets sweet muhammara with a hint of tangy cranberry in this all-in-one dip. This is one of those pulls you can do and go, "Oh, that? I made it myself! I just made what I had on hand," when others ask for the recipe. Or, you could tell them the truth and say this is your latest Trader Joe obsession. Make it on vegan turkey sandwiches, stuff it in mushrooms, or simply slip it in with a triangle of warm, fluffy pita bread.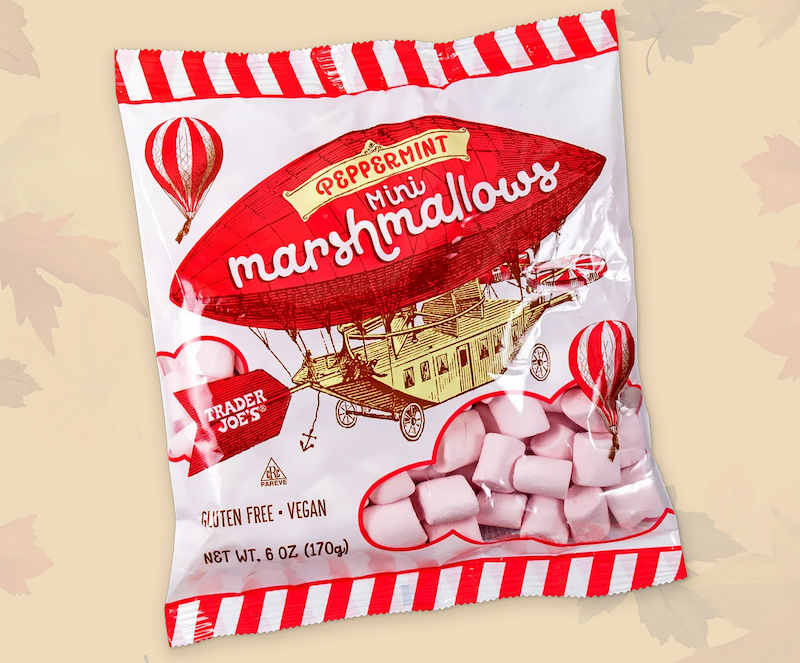 Trader Joe's
2 Mini Peppermint Marshmallows
Ready or not, winter vacation is here according to Trader Joe's. These vegan marshmallows are delicious over a peppermint mocha or melted between a dark chocolate sandwich and plant-based graham crackers. We always indulge in pumpkin treats, but we have a bag full of them ready for when we turn our noses up at anything cinnamon-nutmeg-allspice and reset our taste buds with something. something minty and sweet.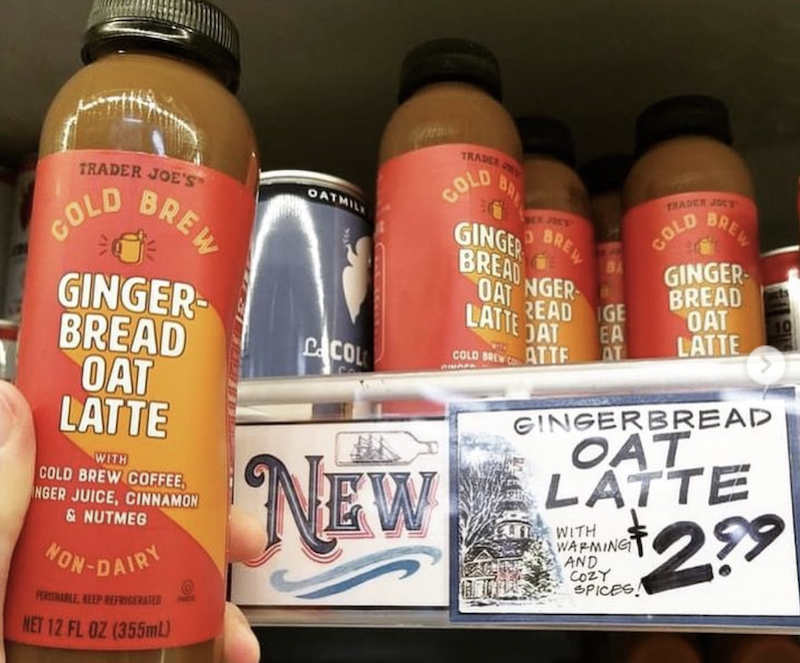 @bigboxvegan/Instagram
3 Gingerbread oat latte
Cold brew is shaken with oat milk and ginger juice, then spiked with cinnamon and nutmeg for this warm-weather fall drink. It will wake you up with more than just caffeine – the ginger juice definitely spices up this drink. Best savored chilled, it's perfect for those California November days of the 70s or New England diehards drinking iced coffee, no matter what the weather app says.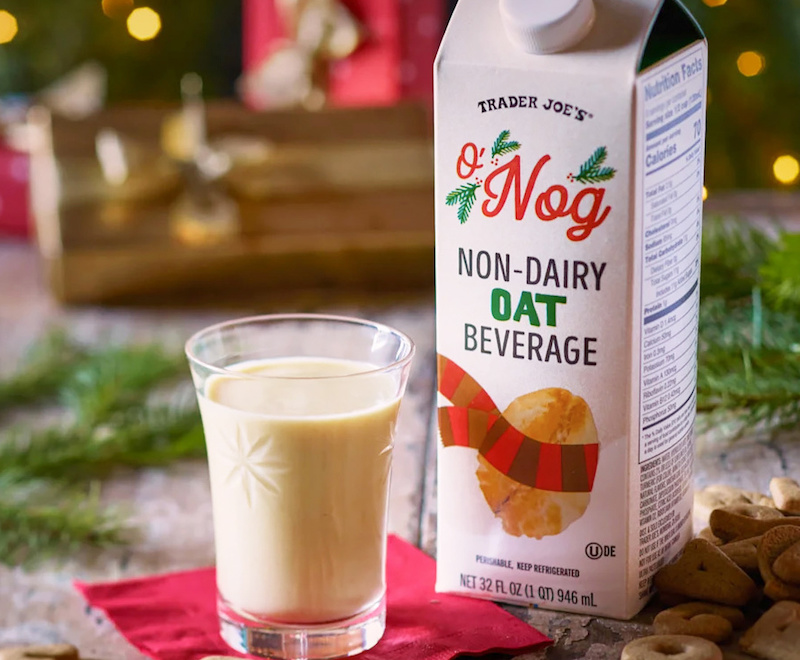 Trader Joe's
4 O'Nog Non Dairy Oat Beverage
Like a poorly executed fruitcake (the ones done right can actually be tender, moist, and delicious), eggnog is one of those holiday traditions we could do without before going vegan. However, we have found that the non-dairy iterations of this drink are not only tolerable, but also enjoyable. TJ's Vegan Oat Milk is delicious cold or warmed, and so much more comfortable when mixed with a cinnamon stick.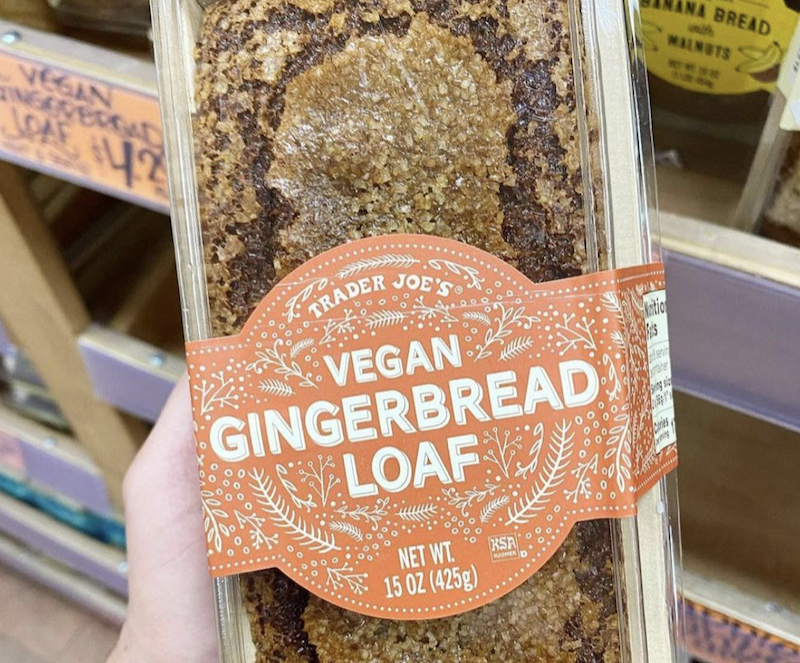 @TraderJoe'sList/Instagramn
5 Vegan gingerbread
This fluffy, perfectly spiced quick bread is infinitely more satisfying than the vast majority of gingerbreads we've chomped on. It's a solid choice for the endless parade of holiday potlucks when you just don't have time to think about what to do, let alone actually do it. We also like to buy that bread just for ourselves, cut a thick piece off after dinner, warm it up in the toaster oven, and finish it off with a thick walnut. non-dairy butter. Apple butter is another great pairing.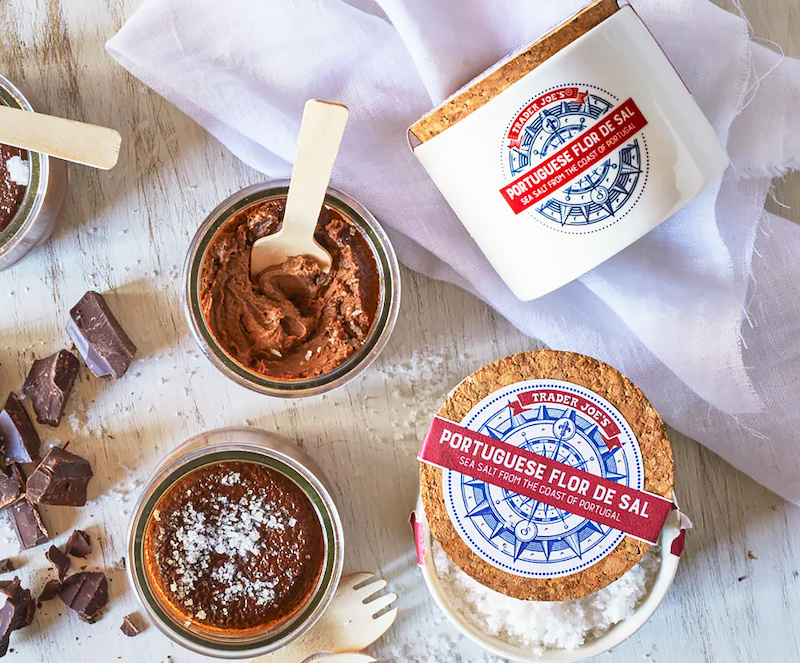 Trader Joe's
6 Portuguese Flor de Sal
Sweet or savory, finish off any holiday dish or weeknight meal with a Salt Bae-worthy twist of this new Flaky Sea Salt from Trader Joe's. It is exceptional sprinkled on roasted vegetables, butter muffins or anything chocolate. Once you replace the flaky sea salt with traditional table salt, you'll never go back. Welcome to the deliciously chic world of fancy salt.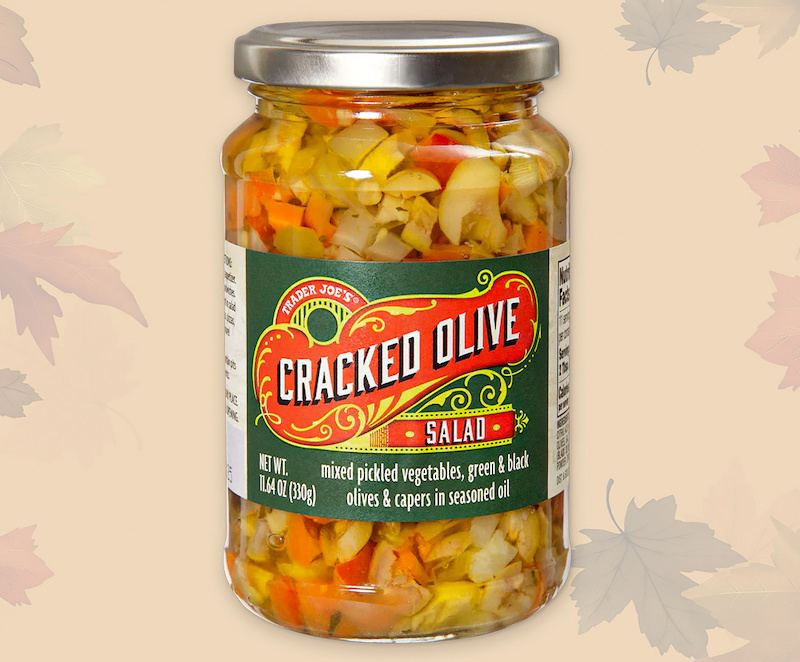 Trader Joe's
seven Crushed olive salad
Among other things, Trader Joe's makes a great job with her condiments. This new pickled accompaniment is a fabulous accompaniment to thick focaccia sandwiches or fancy bruschetta appetizers. Made with black and green olives, a trio of pickled vegetables, and capers in a herb-infused brine, we suggest anyone who loves a good pickle should stock up on this.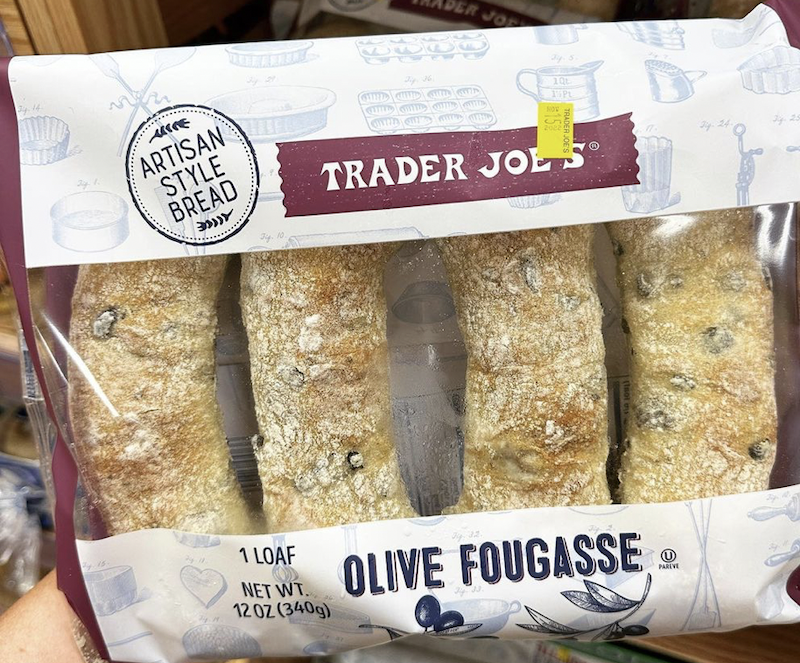 @bigboxvegan/Instagram
8 Olive flat bread
Beyond spooning the new cracked olive salad out of the pot, these long olive buns are natural containers for this condiment. We suggest giving them a good toast, a generous rub of garlic, and a thick layer of your favorite Trader Joe spread. Plain butter also works.
9
Non-dairy oat drink with pea protein
Oat milk is undeniably creamy and very popular, but it's not too impressive when it comes to protein content. Whereas non-dairy milk since soy and peas contain 8 grams of protein per cup (the protein equivalent of a single serving of cow's milk), oat milk is about 3-4 grams of protein per serving. TJ's new version of his staple oat drink is fortified with pea protein and now contains the protein equivalent of soy, peas and dairy milk. Drink.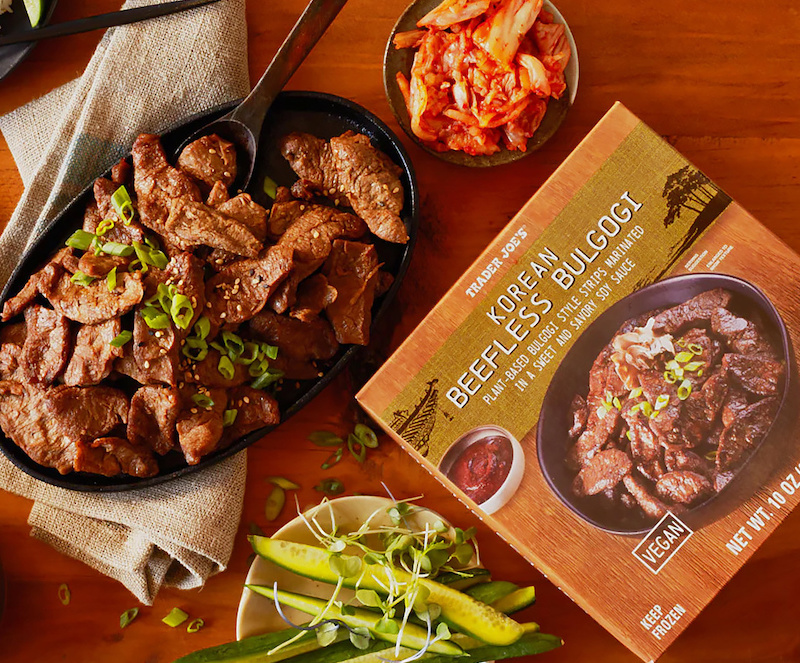 Trader Joe's
ten Korean bulgogi without beef
Create your favorite plant-based Korean BBQ party at home with this frozen vegan bulgogi. True to its beef-based inspiration, this soy-based meat is slightly sweet, so pair it with your favorite spicy vegan kimchi and lots of sticky purple rice (also known as black rice).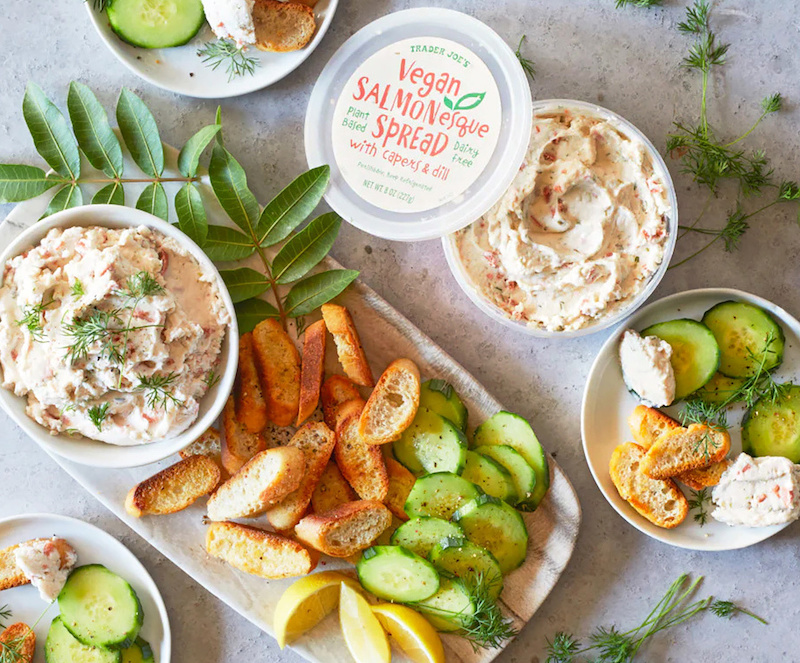 Trader Joe's
11 Vegan salmonella spread
You'll love or hate this schmear from Trader Joe's. Designed to resemble cream cheese and smoked salmon, it pairs naturally with bagels or dill and caper crostinis. Try; we'd love to hear your warm take on it.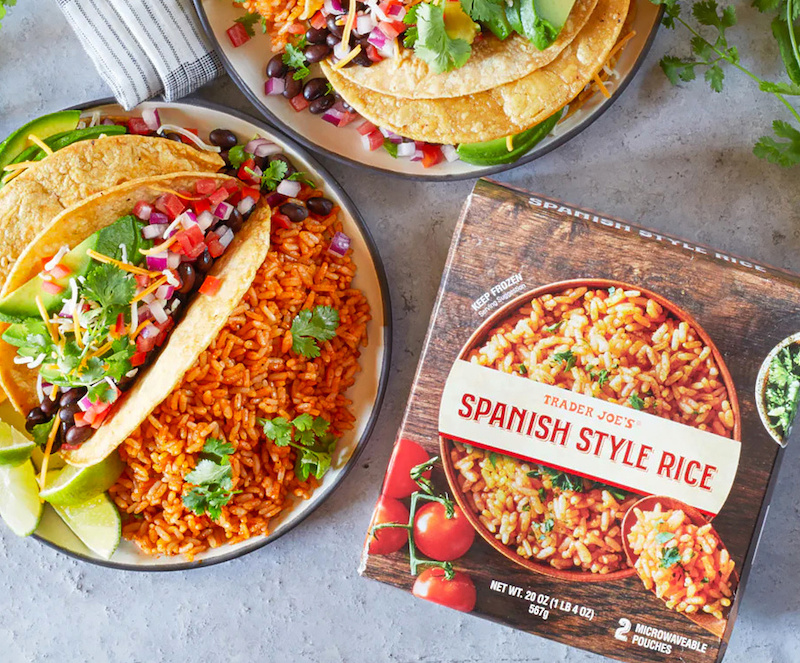 Trader Joe's
12 Spanish rice
During the festive season, those of us without a rice cooker rarely have time to make rice from scratch, let alone infuse it with the lovely spices and rich flavor of tomato. traditional Spanish rice. Trader Joe's delivered another weeknight dinner hack by producing this handy frozen rice. Ready in less than five minutes, it'll take longer to sear your flour tortillas and sauté a bag of TJ's frozen fajita vegetables with vegan chorizo ​​than it does to make this fluffy, flavorful rice.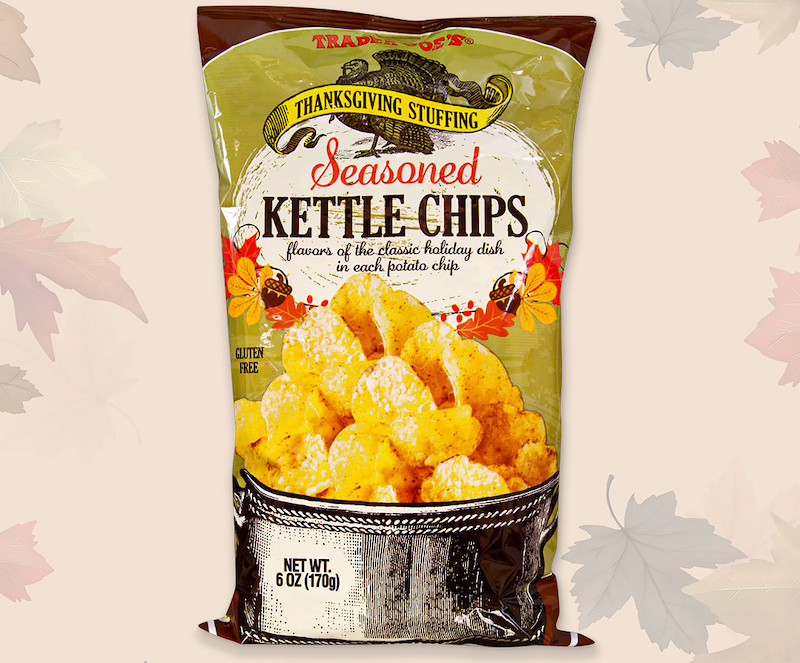 Trader Joe's
13 Thanksgiving Stuffing Seasoned Potato Chips
Similar to the Vegan Salmonesque Spread, not everyone will love these chips, but those who do will be seriously excited when they return to Trader Joe's shelves. We suggest you facilitate your entry. Try them sprinkled on actual stuffing or in a leftover Thanksgiving sandwich. They will add flavor and crunch without being too overwhelming.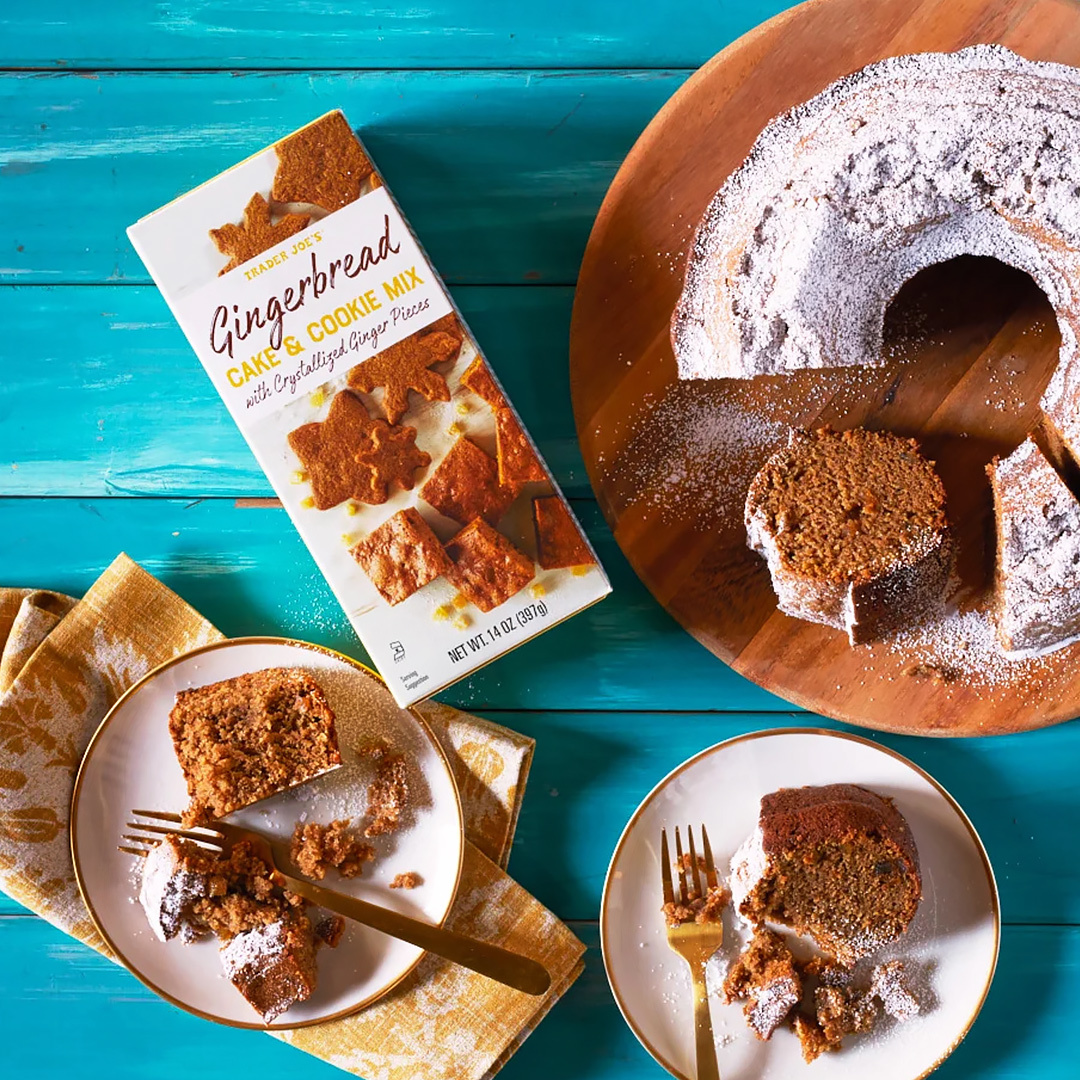 Trader Joe's
14 Gingerbread Cake and Cookie Mix
Fall is all about quick bread, and Trader Joe's makes those sweet, dense loaves that much more convenient with its vegan-friendly baking mixes. This dry cake and cookie mix is ​​vegan as is; you will just need to replace the requested egg and butter with plant-based substitutes (see our vegan cooking guide). Treat yourself to a slice of this Crystallized Ginger Bread for breakfast, afternoon tea, or dessert… especially dessert.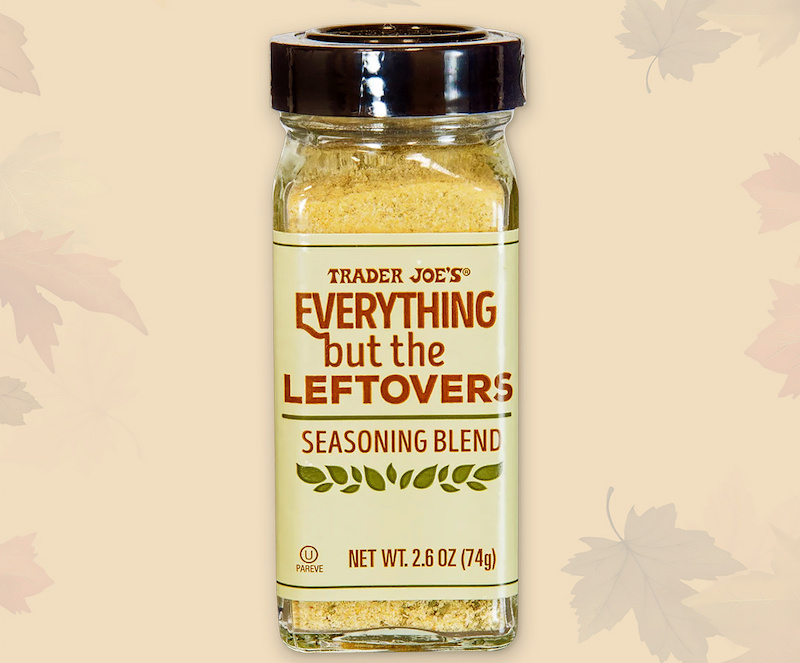 Trader Joe's
15 Everything But Leftovers Seasoning Blend
Customers have gone crazy for Everything But Bagel Seasoning and mushroom lovers have been giddy with the launch of Versatile Umami Seasoning, but this seasonal blend may well edge out those worthy contenders with its rich spice blend. in flavors. It's basically Thanksgiving dinner in the form of pixie dust. Made with real spices like rosemary, celery seed, sage and thyme, there's no weird artificial flavor, just pure comfort in every shake. Try it in stuffing, roasted vegetables, dips or avocado toast.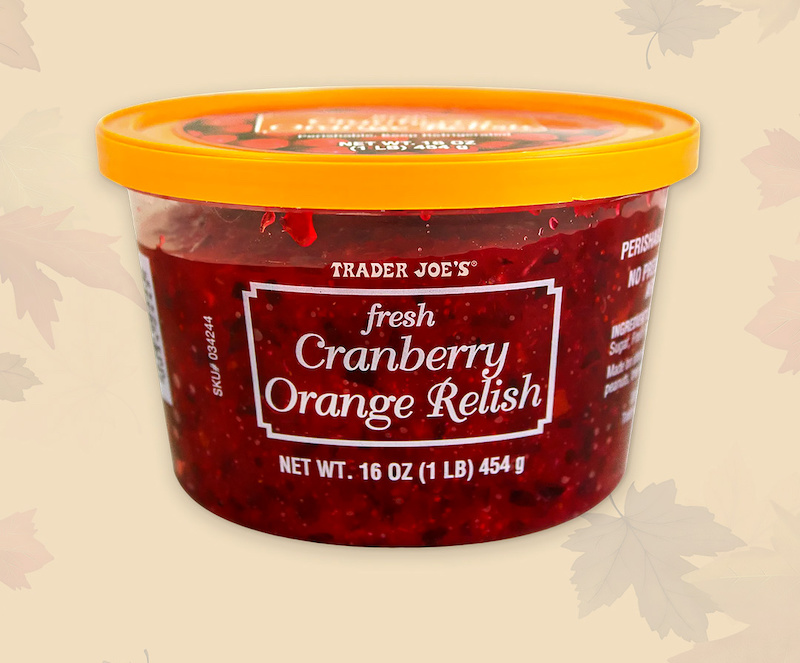 Trader Joe's
16 Cranberry and Orange Relish
It's a cranberry sauce, with a hint of lemony sweetness. This orange-infused cranberry condiment is a welcome twist on that often overly tangy holiday spread. Serve it at your Thanksgiving table (in a pretty serving bowl) or with vegan cheese, crackers and meat for a seasonal vegan charcuterie platter.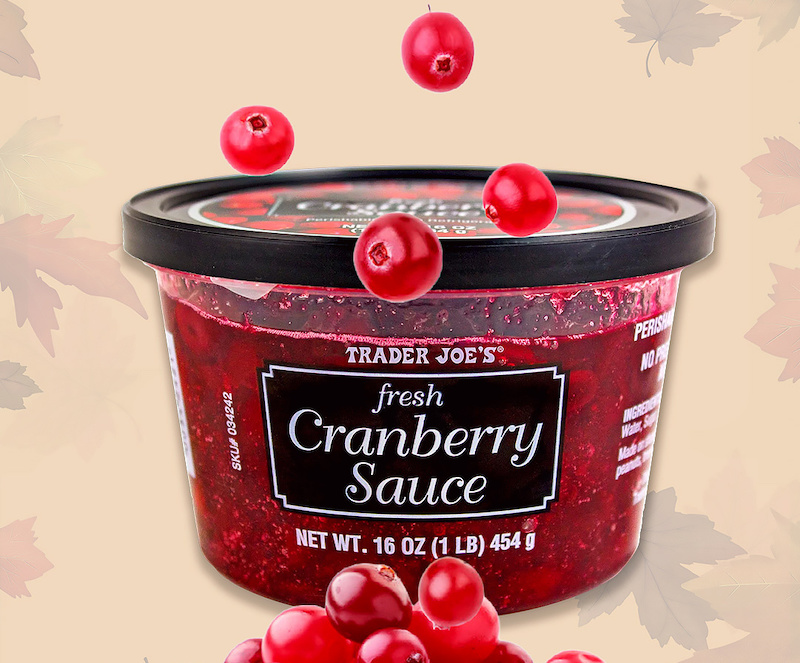 Trader Joe's
17 Fresh cranberry sauce
Every year, families argue over the issue of cranberry sauce. Some look forward to dropping a tin can-shaped "sauce" on a plate every year, while others will settle for nothing more than home made. Step into Trader Joe's with a tasty compromise: fresh cranberry sauce in a jar. It is less processed than the canned variety but much more convenient than making it yourself. Trader Joe's Cranberry Sauce: Bringing peace to the table since 1967.
For more vegan finds at Trader Joe's, read: