Wyndham Garden Winnipeg Airport: design, culinary offerings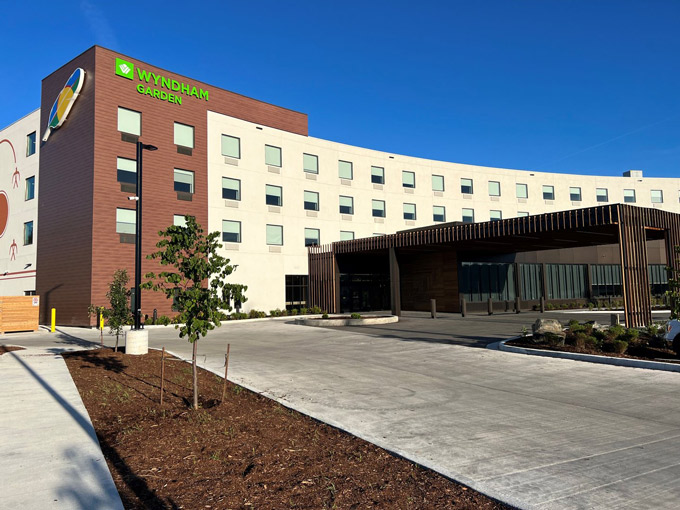 Wyndham Garden Winnipeg Airport recently opened and owned by the Long Plain First Nation, which is located in Treaty 1 territory on the Long Plain Madison Reservation, the city's first urban reservation.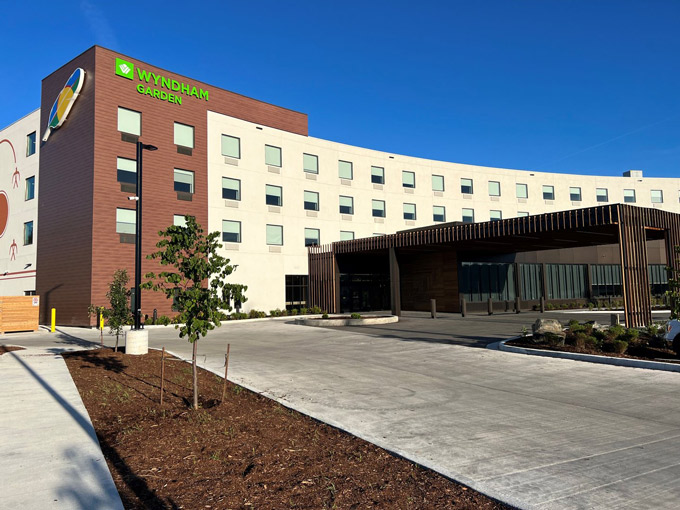 This project has been in the works for a long time, with Long Plain originally purchasing the land from Madison in 2006.
You'll find an established Winnipeg brand attached to the project – Sparrow Hotels manages the property, which also owns and manages popular boutique hotels, including Inn at the Fork, simple hotel and Norwood Hotel.
The hotel is part of the Wyndham Garden group; it is the first Aboriginal-owned hotel under this brand.
Design details
Thoughtful design celebrating Indigenous culture and a peaceful Earth-inspired color palette make guests feel instantly welcome upon entering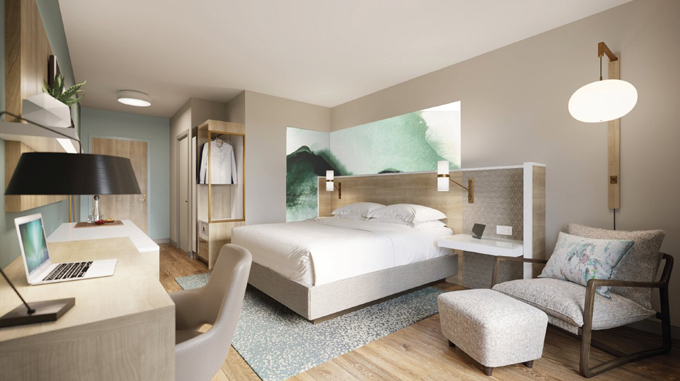 In fact, you'll see "Ode' Ackiing" in black letters behind the check-in counter, which translates to "Heart Land" in Ojibway.
The 132-room hotel features a unique curvature not seen in your typical hotel blocks as a reflection of the circle of life.
Space for natural light is also important throughout the hotel which has been designed to welcome the sun with an east-facing main entrance, which is a common theme among indigenous traditions and cultures.
Smudging and pipe ceremonies are welcome at the hotel, with spaces built to fire code with these important traditions in mind.
Indigenous art is a big part of what makes the interior of Wyndham Garden Winnipeg Airport shine.
Unique pieces of Aboriginal art adorn each room, many of which were created by Garry Meeches on the 4th floor, Cyril Assiniboine on the 3rd floor, and Linus Woods on the 2nd floor, all of whom are Long Plain artists. Near each elevator you will also find a massive centerpiece.
A special piece that guests may notice on their way to the pool and gym (don't forget to pop in to admire the beautiful tiling, even if you're not going for a swim!) is a Knowledge Keeper Gathering Hall.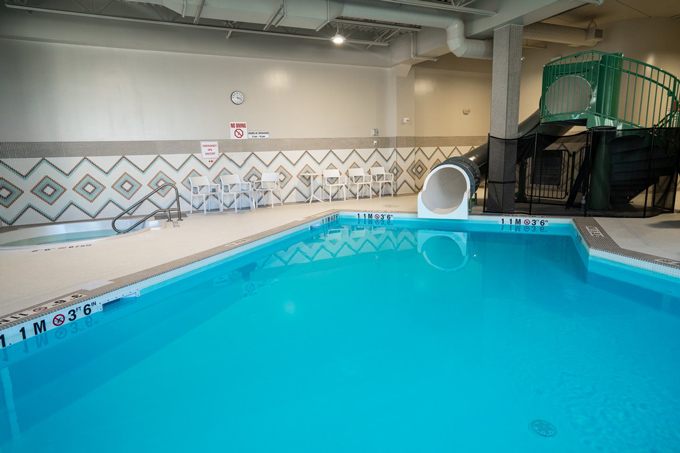 This is where seniors staying at the hotel can relax and chat in a comfortable and private space.
The culinary proposals
Sit in the peaceful and casual dining room of Manoomin Restaurant (which translates to wild rice), where Manitoba ingredients take center stage.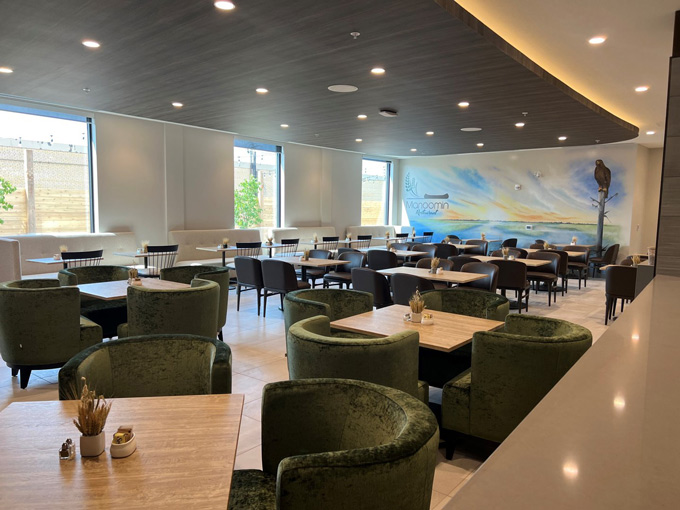 You'll find plenty of dishes showcasing bison, berries, grains, granola, seeds and pike on the earth-inspired menu, with Executive Chef Jennifer Ballantyne, Opaskwayak Cree Nation (a Red Seal Chef) at bar.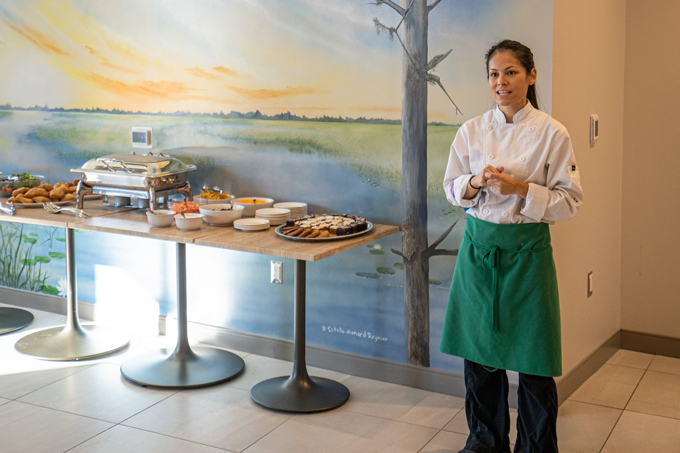 The buffalo tacos feature fluffy homemade fried bannock made daily and toppings like wild rice for a native touch.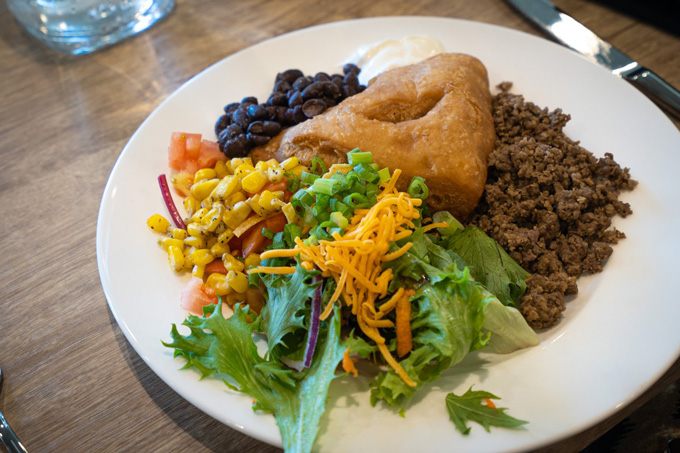 Buffalo chili, fried pike cheeks, and harvest are other inspired choices.
Diners can choose to eat in the cozy dining room or outside on the terrace in the warmer months.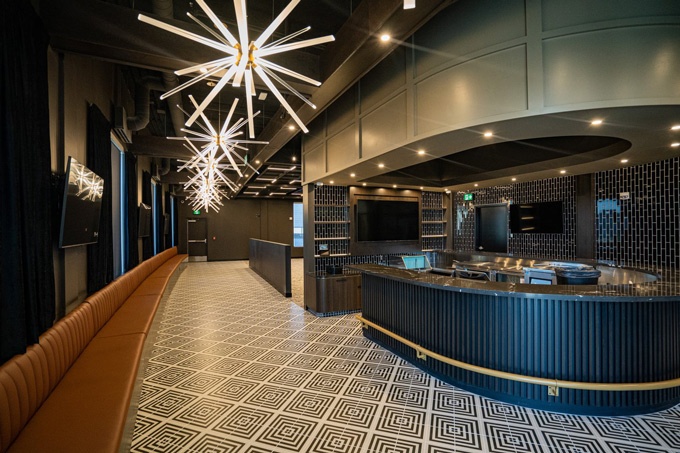 Also on site is Onishkaan Café (translated to get up or wake up), which is open daily at 6:30 a.m. and serves tea, coffee, pastries, bannock and jam, so guests can make refuel before visiting the sites and shopping nearby.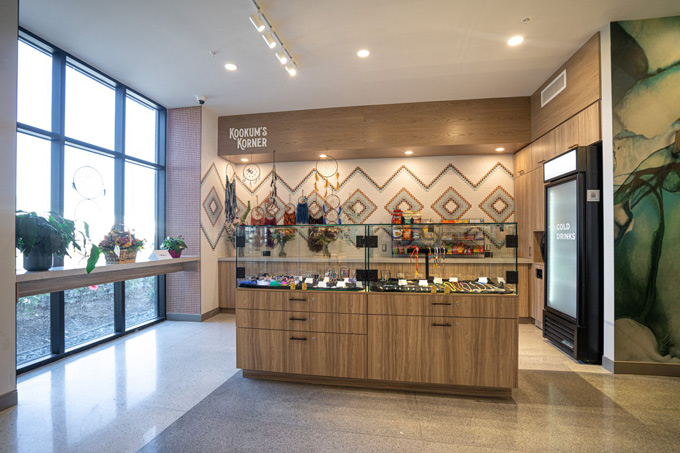 Nearby attractions
While the Wyndham Garden Winnipeg Airport is your comfortable home away from home, it's also conveniently located near many sites.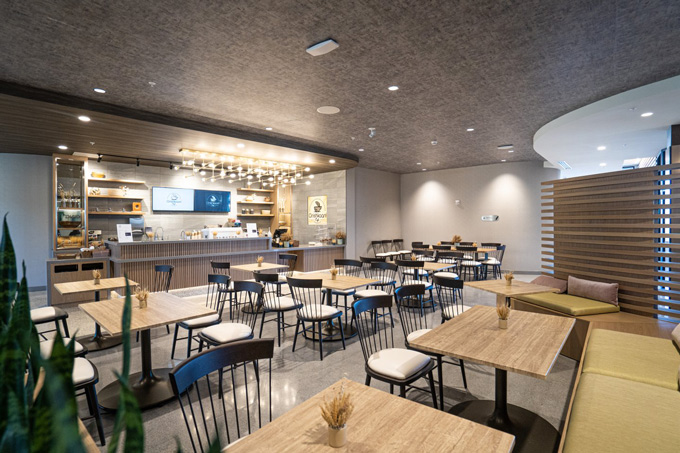 CF Polo Park the mall and shops of St. James are only a few blocks away, while a visit to Assiniboine Park & zoo is 10 minutes away by car.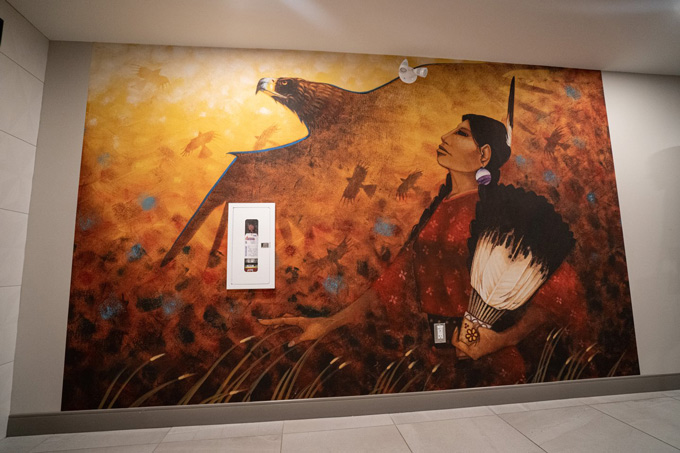 The city center, just 15 minutes away, is the hub of major attractions such as Forks, Manitoba Museum, Canadian Museum for Human Rights, Canada Life Center (for professional sport and performing arts), Stock Exchange District, Winnipeg-Qaumajuq Art Gallery and more.
Sharing is caring!